Posts for: April, 2018
By Dr. Terry Fayad
April 21, 2018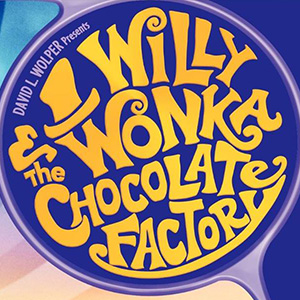 The classic movie Willie Wonka & the Chocolate Factory, starring Gene Wilder, still brings back sweet memories of childhood to people everywhere. Recently, the news broke that a remake of the beloved 1971 film is in now development in Hollywood. But at a reunion of the original cast members a few years ago, child star Denise Nickerson revealed that her role as gum-chewing Violet Beauregard caused a problem: she ended up with 13 cavities as a result of having to chew gum constantly during the filming!
It should come as no surprise that indulging in sugary treats can lead to cavities: The sugar in your diet feeds harmful bacteria that can cause tooth decay and other dental problems. Yet lots of kids (not to mention the child inside many adults) still crave the satisfaction that gum, candy and other sweets can bring. Is there any way to enjoy sweet treats and minimize the consequences to your oral health?
First, let's point out that there are lots of healthy alternatives to sugary snacks. Fresh vegetables, fruits and cheeses are delicious options that are far healthier for you and your kids. Presenting a variety of appealing choices—like colorful cut-up carrots, bite-sized cheese bits and luscious-looking fruits and berries can make it easier (and more fun) to eat healthy foods. And getting kids off the sugar habit is a great way to help them avoid many health problems in the future.
For those who enjoy chewing gum, sugarless gum is a good option. In fact, chewing sugarless gum increases the flow of healthful saliva in the mouth, which can help neutralize the bacteria-produced acids that cause cavities. Gums that have the ADA (American Dental Association) Seal of Acceptance have passed clinical tests for safety and effectiveness.
But if you do allow sugary snacks, there are still a few ways to minimize the potential damage. Restrict the consumption of sweets to around mealtimes, so the mouth isn't constantly inundated with sugar. Drink plenty of water to encourage saliva flow, and avoid sugary and acidic beverages like soda (even diet soda) and "sports" or "energy" drinks. Brush twice daily with fluoride toothpaste and floss once a day. And don't forget to visit our office regularly for routine checkups and cleanings. It's the best way to get a "golden ticket" to good oral health.
If you would like more information about sugar, cavities and oral health, please call our office to arrange a consultation. You can learn more in the Dear Doctor magazine articles "Nutrition & Oral Health" and "The Bitter Truth About Sugar."
By Dr. Terry Fayad
April 11, 2018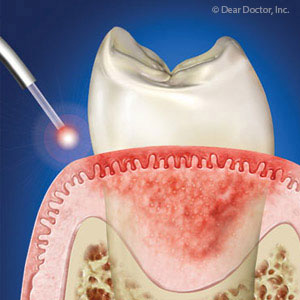 One of the most important revolutions in healthcare in recent decades is the increasing use of lasers. Now, laser technology is making a showing in dental care for the treatment of periodontal (gum) disease.
Lasers (an acronym for "Light Amplification by Stimulated Emission of Radiation") narrowly focus and amplify light within a small area. First developed in the early 1960s, laser technology rapidly advanced in the ensuing decades with more compact and precise devices that were eventually safe and effective for many types of medical procedures. Its remarkable features are now available for the primary focus of gum disease treatment—removing bacterial plaque.
Plaque is a thin, built-up film of bacteria and food particles on tooth and gum surfaces that serves as a haven for the bacteria that cause gum disease. The continuing presence of plaque and calculus (tartar) enables the infection to thrive and advance within the gum tissues, ultimately damaging them along with supporting bone. As the tissues weaken and bone volume diminishes, the teeth are at greater risk for loss.
It's necessary, therefore, first and foremost to remove all detectable plaque and calculus to stop the infection. This is traditionally done with special hand tools called scalers used to manually remove plaque, or with ultrasonic equipment that vibrates plaque loose to be flushed away with water. These procedures can take numerous sessions and may result in some minor post-procedural discomfort and bleeding during the cleaning.
But lasers specifically designed for plaque removal can minimize tissue damage and resulting discomfort. Because the particular laser light used reacts only with plaque and diseased tissue, it can remove them without disturbing nearby healthy tissue usually more efficiently than traditional scaling. Dentists who've used the technology frequently report less bleeding and higher patient satisfaction.
But before lasers for gum disease treatment are widely adopted, the procedure must undergo further scrutiny. Reports from dentists notwithstanding, not enough research studies have been performed to date that meet the necessary scientific criteria. But if the evidence so far from the field holds up, it's quite possible lasers will one day become a regular part of dental practice for treating gum disease.
If you would like more information on treating gum disease, please contact us or schedule an appointment for a consultation. You can also learn more about this topic by reading the Dear Doctor magazine article "Lasers Versus Traditional Cleanings for Treating Gum Disease."