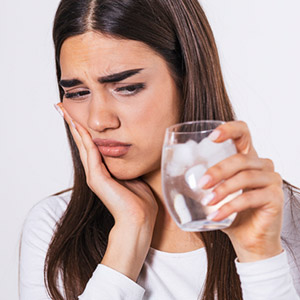 Not all toothaches are alike: Some are sharp and last only a second or two; others throb continuously. You might feel the pain in one tooth, or it could be more generalized.
Because there are as many causes as there are kinds of dental pain, you can expect a few questions on specifics when you come to us with a toothache. Understanding first what kind of pain you have will help us more accurately diagnose the cause and determine the type of treatment you need.
Here are a few examples of dental pain and what could be causing it.
Temperature sensitivity. People sometimes experience a sudden jolt of pain when they eat or drink something cold or hot. If it only lasts for a moment or two, this could mean you have a small area of tooth decay, a loose filling, or an exposed root surface due to gum recession. If the pain lingers, though, you may have internal decay or the nerve tissue within the tooth has died. If so, you may require a root canal treatment.
Sharp pain when chewing. Problems like decay, a loose filling or a cracked tooth could cause pain when you bite down. We may be able to solve the problem with a filling (or repair an older one), or you may need more extensive treatment like a root canal. In any event, if you notice this as a recurring problem, don't wait on seeing us—the condition could worsen.
Dull pain near the jaw and sinuses. Because both the jaws and sinuses share the same nerve network, it's often hard to tell where the pain or pressure originates—it could be either. You may first want to see us or an endodontist to rule out tooth decay or another dental problem. If your teeth are healthy, your next step may be a visit with a physician to examine your sinuses.
As you can see, tooth pain can be a sign of a number of problems, both big and small. That's why it's important to see us as soon as possible for an examination and diagnosis. The sooner we can treat whatever is causing the pain, the sooner your discomfort will end.
If you would like more information on treating dental pain, please contact us or schedule an appointment for a consultation. You can also learn more about this topic by reading the Dear Doctor magazine article "Tooth Pain? Don't Wait!"